PARDON A TURKEY
An Undercover Investigation Exposing Cruelty in the Turkey Industry Will Make You Rethink Your Holiday Dinner
The power doesn't lie just with the president. Take cruelty off your plate this holiday season. Spare a turkey by pledging to serve a plant-based holiday meal!
"PARDON" A TURKEY THIS HOLIDAY SEASON
HIDDEN CAMERAS UNVEIL
HORRORS THAT
CONSUMERS NEVER SEE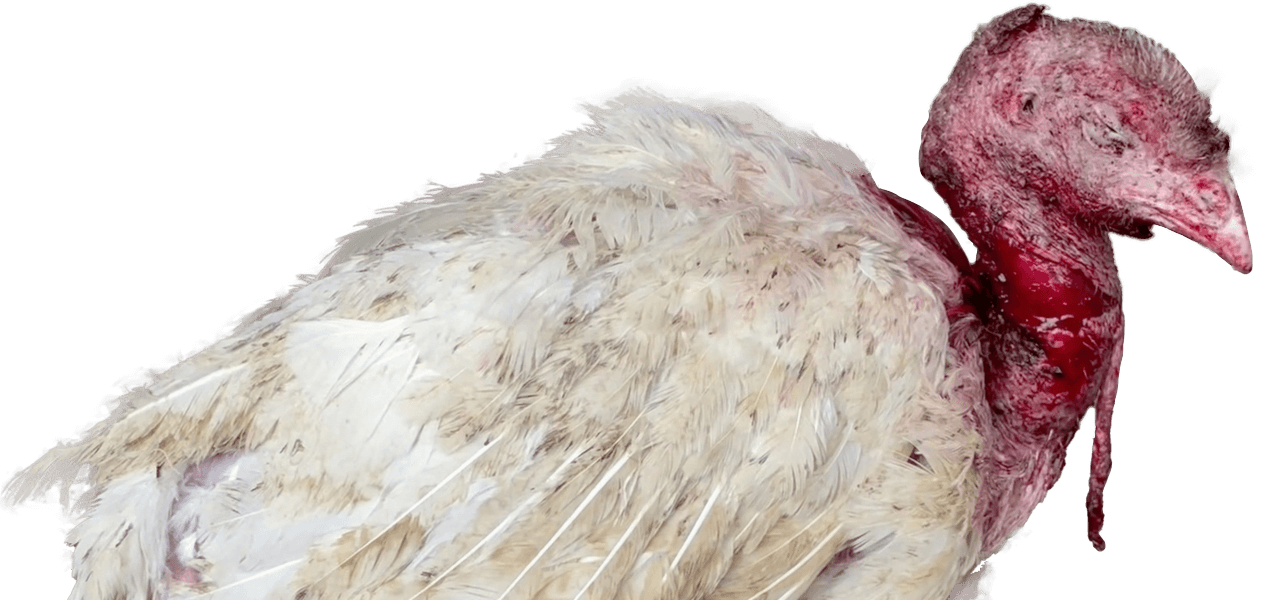 A Mercy For Animals undercover investigator has captured the span of turkeys' brutal lives. From their arrival at a farm when they are just a few days old to the moment they are sent to slaughter, their lives are filled with suffering.
The investigation clearly shows the grim, unnatural life cycle of farmed turkeys. Forced into the meat industry, these birds face misery and pain from hatching to slaughter. These animals never know their mothers' love, never feel sunlight on their backs or grass beneath their feet.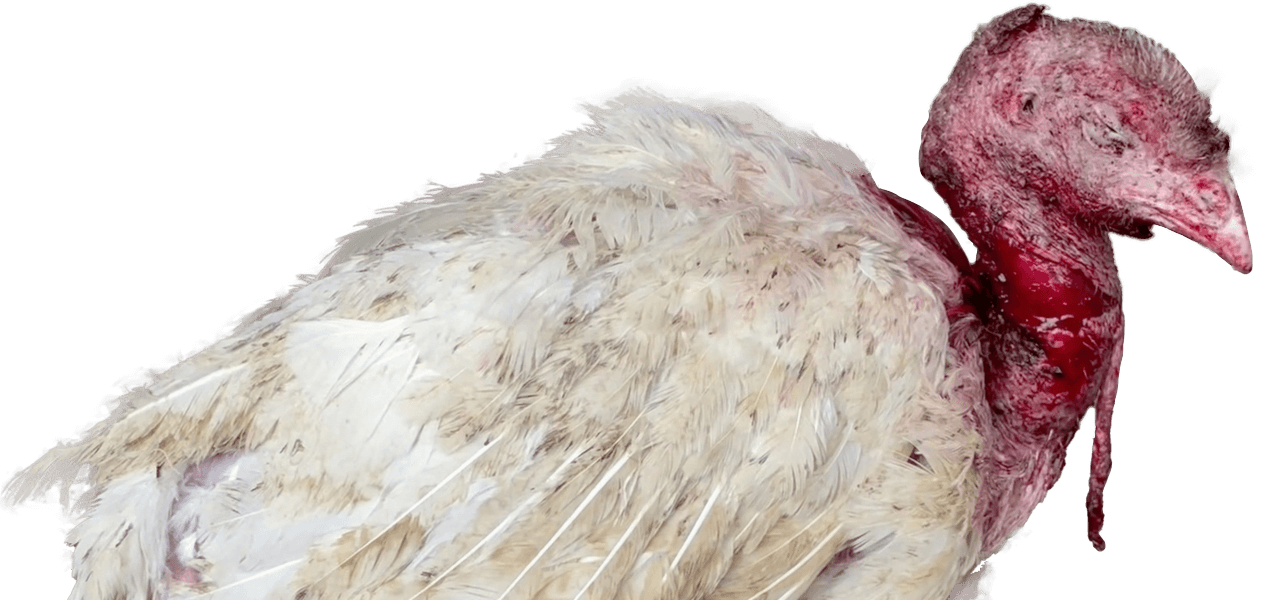 HERE'S WHAT OUR CAMERAS CAPTURED:
Trapped Beneath Her Peers

Stuck under a pile of dead birds, a baby turkey suffered respiratory distress and injuries.

Electrocuted

One bird who instinctively tried to perch became trapped in electrical wire and died from burns and shock.

Kicked and Thrown

Shoved and kicked onto a conveyor belt that loaded her into a truck, this bird fell and was grabbed by her delicate wing and hurled inside.
BY THE NUMBERS
212 MILLION TURKEYS
were raised in the United States in 2022, and 5.3 billion pounds of turkey are produced each year.

That's roughly the weight of
7 EMPIRE STATE BUILDINGS.

OVER 40 MILLION TURKEYS
are slaughtered for Thanksgiving in the United States.

Turkeys are typically killed between 10 and 21 weeks old, while their normal
LIFE SPAN IS 10 YEARS.
CRUELTY CRITICS
The majority of the millions of turkeys raised in the United States each year experience very poor welfare throughout their shortened lives.
Bred for rapid growth, these animals are prone to serious health problems. They are typically farmed in intensive systems that disregard their behavioral needs for the sake of increased profits.
Under U.S. law, turkeys have no welfare protections at slaughter. Sadly, all standard U.S. slaughter methods subject these sensitive animals to severe distress and pain.
TURKEY TIDBITS
CLOSE-KNIT FAMILIES

In the wild, turkeys live in tight groups. Not only do broods remain together for up to five months, but male siblings form lifelong social units.

BONDED BIRDS

Researchers have found that when an individual turkey is removed from his flock, he'll squawk in protest until reunited with his group.

EMPATHETIC ANIMALS

Turkeys have a complex language of yelps and cackles. They mourn the death of a flock member and so acutely anticipate pain that some turkeys have suffered heart attacks after seeing their mates slaughtered.
CHOOSE TO LEAVE TURKEYS OFF YOUR PLATE THIS HOLIDAY SEASON
Make your holiday a celebration for birds too. These compassionate recipes are simple, tasty, and sure to appeal to everyone gathered around your table.
We can all take a stand for animals forced to suffer in the meat industry by choosing more plant-based foods. Together, we can build a food system that is good for animals, people, and our planet.
ANIMALS NEED YOUR HELP!
You can make a difference for animals by joining Mercy For Animals today.
Give a Gift